Dr. Ashok Shettar
Hon. Vice Chancellor, KLE Tech University, Hubli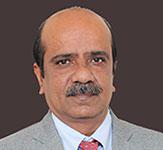 Dr. Ashok Shettar is Vice Chancellor of KLE Society's KLE Technological University (formerly B.V. Bhoomaraddi College of Engineering & Technology). Dr. Shettar has a Master's in Engineering and a Ph.D. from the Indian Institute of Science, Bangalore.
He has made a significant contribution to Indian Engineering Education ecosystem through NBA's guidelines for attainment & accreditation. He is a Mentor on advanced OBE training to several institutions and to IUCEE consortium institutes. He is a member of the Higher Education Council Government of Karnataka and the Executive Council for Visvesvaraya Technological University in Belgaum. Dr. Shettar is a life member of the KLE Society, Belgaum. He is a Fellow of the Institute of Engineers India, Dr. Shettar is also a founding member and current Vice President of the BIC Society, which promotes ITeS industries in Northern Karnataka. Dr. Shettar has received the Rotary Centennial Award for Professional Excellence. He is the Guru of Outcome Based Education, Good Governance, Strategic Planning and Institutional Development, Total Quality Management in Education.
Dr. Ashok Shettar, Dr. Prakash Tewari (Professor & Principal of BVB CET) and Dr. Gopalkrishna Joshi (Professor & Director for Center of Engineering Education Research, KLETech University) have trained thousands of Faculty in OBE across India. IonCUDOS©OBE Platform has evolved with its rich and practical expertise under University-Academia collaboration. IonIdea is proud to be associated with KLE Technological University as our Mentor Institution and Domain Partner!
Prof. Dr. Gopalkrishna H. Joshi
Hon. Vice Chancellor, MIT VISHWAPRAYAG UNIVERSITY, Solapur

An accomplished professor with a noteworthy background in higher education. He is recognized as an exemplar of leadership and innovation in the field of Engineering Education and Research.
Prof. Dr. Gopalkrishna Joshi has served as The Executive Director at Karnataka State Higher Education Council, GoK. Prior to that Dr. Gopalkrishna Joshi has more than 30 years of extensive experience in Higher Education that includes Engineering education & research, Teaching, and as a Mentor to several institutions on Outcome Based Education, AICTE's examinations reforms and on improving academic quality. He served as Professor in SDM College of Engineering & Technology, Dharwad and later as Professor, as Head of Computer Science & Engineering and as Dean (Curricular Innovations) & Director for Centre for Engineering Education Research, at KLE Technological University, Hubli, Karnataka.
Actively involved in advancing National Education Policy (NEP 2020) in Karnataka's higher education arena. This encompassed Policy Implementation, Curriculum Evolution, Leadership Enhancement, Faculty Progression, and Outreach Initiatives.
With expertise in outcome-based education (OBE), curriculum design, problem-based learning (PBL), educational technology, and engineering education research, he has contributed significantly to shaping the future of education.
We are proud for having associated with Prof. Dr. Gopalkrishna Joshi.